I'm baaaacccckkkkk! Catching up now, slowly, on the internet time I missed during the 8 days in Florida.....went through some serious withdrawals, but it's all good now, LOL!
I posted yesterday at
Hopeful Parents
, so go and check that out when you get a moment. It's the tale of the end of Mr. L's baseball season.........*sigh*.
Now, as for the Orlando vacation reports, here's what I think I'll do: I want to give good descriptions, details, etc but there's so much to tell. So, I think I'm going to break this up into more than one post; hopefully, it'll be more manageable that way.
Day 1
Left home at around 8:30 am, ate lunch at the Florida welcome center, checked into hotel (Disney AllStar Music resort) at around 4 pm. Met a great friend and her son for dinner, swam in the hotel pool, and then hung out inside as a massive storm hit the area.
Day 2
Epcot! This turned out to be the kids' favorite park, actually. They loved the scientific stuff (especially Mr. L, no surprise), especially "Living with the Land"--a ride in which you tour the greenhouses and areas where Epcot staff are growing amazing plants, etc. We rode the resort bus back "home" for lunch and rest time, then went back to visit the "World Showcase" which is the area depicting different countries. We asked the kids if they wanted to try the Kim Possible game....Energizer wanted to, Mr. L didn't at first. Game works like this: You are given a cell phone on which you listen to messages, press buttons when asked, etc. The messages tell you where to go and what to look for; it's like a scavenger hunt. You find hidden clues and then "save the world"! We did it, twice actually, and it turned out that Mr. L was more into it than any of us! Really a cool idea that you've gotta try if you go.
In the Japan area, we heard a lady singing on a microphone, and walked over to check it out. She had on an authentic Japanese costume, and was beckoning people over for "story time" so we decided to stay. It was an old Japanese folk tale, and she needed a boy from the audience to depict the main character. She tried to get Mr. L to do it, but of course he would have no part of that and even tried to run away! The story teller was a little shocked at his reaction, but she just turned and asked K to do it instead! So here he was, a 38 year old, pretending to be a Japanese boy in a story he's never heard before! But he did great, and my boys seemed proud that their dad was up there in front of everyone.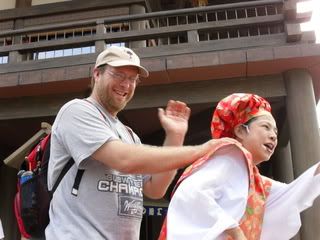 Ate dinner in the Morocco section of the park....YUM! We all had wraps--chicken for Energizer, and lamb for the rest of us. It was so tender, very very good! Mr. L really liked it too, which slightly surprised me. We rode the boat back across to the park entrance area, then headed back to the hotel.
____________
Ok, that's Part 1. More to follow, along with more pics, of course. Hopefully I can get all of these posts done in the next few days before I forget the details of what we did, LOL! :)