OMG, the relief, that this birthday party for Ethan is finally over! I obsessed and stressed about this for weeks......no, make that months.....worrying about who might come or not, what games to play, crafts to make, snacks, cake, decor........you get the picture.
But in the end, it turned out great and was a huge success! Several kids came, both from his preschool class and one from our neighborhood. And one even brought him a gift to school on Monday, saying she'd planned to come but been called away at the last minute!
We had a Diego pinata, made "rain sticks" out of papertowel rolls and dry rice, and went on a treasure hunt on a nature trail (seems to have been the most popular event). He got WAY too many motorcycles, monster trucks, transformers and all of those other big boy toys, and a fun, sugar-filled time was had by all. Here are some of our pics: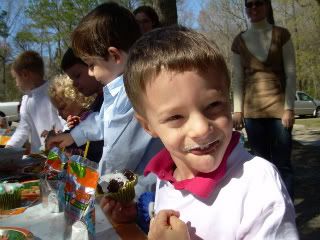 Happy Birthday, miracle baby! Can't believe you're 4 years old.......